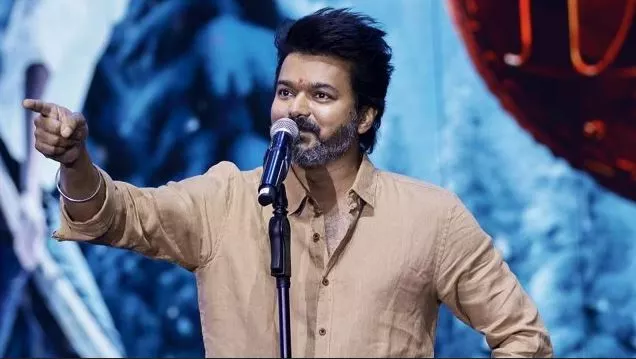 Vijay Asserts: 'There's Only One Superstar, and There's Only One Thalapathy'
At the success meet of Leo, Vijay brought an end to a long-standing debate about who is the superstar of Tamil Cinema.
The success meet of Leo, which took place at Nehru Stadium in Chennai with the cast and crew of the film in attendance, witnessed the much-awaited speech by Vijay, which brought the house down.
Vijay began his speech by saying, "En nenjil kudiyirukum anbana Nanba and Nanbigal. I thought you all were living in my heart. Realised I am living in yours too. Those are temples I am living in. I don't know what I can do for this love that doesn't expect anything back. Lately, I am noticing there's a lot of anger on social media. Why? We have a lot of work to do. What will a kid do at home if the dad beats him? Forgive it all like that. Like Gandhi said, 'Non-violence is powerful than violence.'"
Vijay then shared a 'kutti story'. He said, "Two guys went hunting in a forest. One guy had a bow and arrows, and the other had a spear. The guy with a bow and arrow killed a rabbit. The guy with the spear, on the other hand, took aim at an elephant. But he misses it. The two walked back to the village. One with the rabbit and the other with his spear. But if you ask me who is the achiever among the two, I would say it is the guy who came back with nothing. Because it is easy to hunt easy targets. Winning over something easy is not success, nanba (friend)! We are at least trying to win a hard game, right? Always aim big.Like Bharathi said, "Perhinum perithu kel (Ask the biggest of the biggest). That's how your dreams, thoughts, and work should be. Everyone has a place here, nanba. No one else can take it away."
The actor added, "A small boy at home would take his father's shirt and wear it. His watch too. He will also sit on his dad's chair. The shirt will not fit him well. The watch will not fit. He wouldn't know if he could sit on the chair–whether it belonged to him and all that. It is his dream. Dream big, nanba. No one can do anything about it. Always have a great aim, like (Abdul) Kalam sir said."
'Kutti story', which means a short story, are Vijay's words of wisdom. The Leo actor has made it a habit to feature a 'kutti story' in his speeches.
Talking about the controversy the song "Naa Varava" created, Vijay said, "There was this song that created a lot of controversy. There was one line, 'Viraluku eddukula thee pandham (torch between the fingers).' Why do you imagine it is a cigarette? Think of it as a powerful pen. Then there was the line: 'Quarter pathathu tandava konda (Quarter is not enough. Bring out the giant vessel). Why do you think it is alcohol? Think of it as koozhu (porridge).' I can come up with such a flimsy answer to it all, but I don't want to do it. I plead with all of you to look at a film as a film. If you look, all around the world, cinema is seen as something artificial and a form of entertainment. In that cinema, there will be a good guy and a bad guy. To differentiate between these two, there are a few things that are done… see I don't have to explain this all to you. I know that you all know it already."
"Are you all that immature? As I have said before, take only the good things and leave the rest. Not just in cinema, bad things are all around us. There are a lot of wine shops on the way to our schools and colleges. Do our kids go there and have two drinks before school? You all are too shrewd. Now, look at all the love people have for me. But if I make a bad film, they will be like 'poda' and leave it. They are of a different league. Vera level you all are," he added.
Vijay later thanked everyone who had been with him through the journey of Leo. Before concluding his speech, he again took the mic and made the biggest statement of the evening that led the fans to go berserk.
The actor said, "I came here to tell this on this stage. I have told this many times, but I want to clear the air once again. Of all the stars that Tamil cinema has given us, there's only one Puratchi Thalaivar (MG Ramachandran), there's only one Nadigar Thilagam (Sivaji Ganesan), there's only one Captain (Vijayakanth), there's only one Ulaganayagan (Kamal Haasan), there's only one Superstar (Rajinikanth). Likewise there is only one Thala (Ajith Kumar). You know Thalapathy are soldiers taking orders from the kings. Kings will order, and the Thalapathy will accomplish the task. As far as I am concerned, you all are kings and I am your Thalapathy. I am a Thalapathy at your service. Nandri vanakkam."